Cameo's events management is now available.
You'll find most of it in the new Events & Bookings menu (you need Events privilege from your administrator to see this)
There is also a new form type for self-service booking, and
a new web-app Cameo Check.in to check tickets on the door.
There are a few other changes in Templates and Contact types.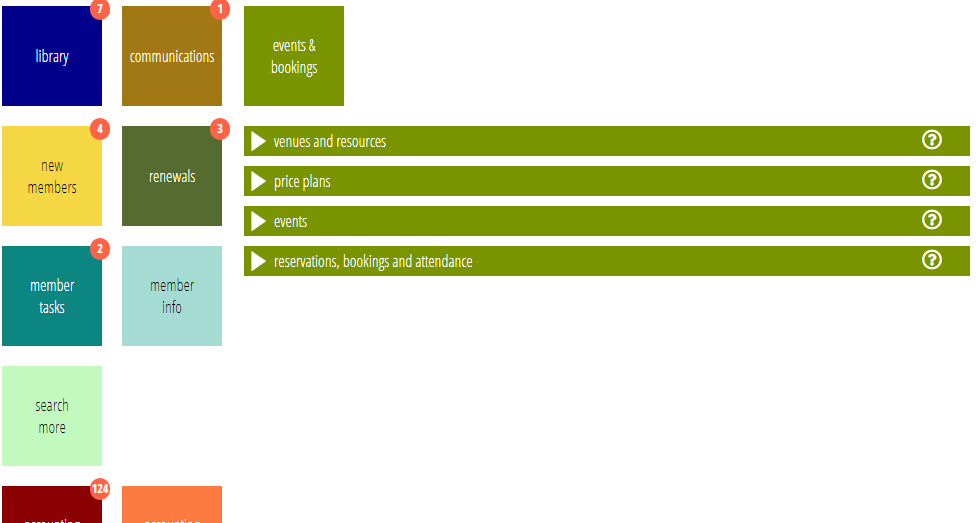 About events
An event is essentially something that takes place at a specific time which someone can reserve a place to attend from an available pool of places. Examples include:
plays, films, concerts and other performances,
conferences,
coach trips,
appointments (with specific people available at certain times, or multiple people in certain roles where it doesn't matter who they see),
room bookings,
and less obviously: equipment hire or loan, like sports of office equipment (think of the item for hire as being just like a person you make an appointment with, albeit inanimate).
Events:
can be paid or free.
Whether paid or free, tickets can be issued for events, and checked on the door, or people can be checked off from an attendance list. Tickets can be issued by email, posted, or made available for collection on arrival, or some specified combination of these.
If paid for, places can all be one price, or multiple prices depending on where they sit and what kind category of person they are (such as Adult or Child).
Categories can include early booking prices before a certain date, and discounts on production of an offer code.
Places can all be the same, from a single total capacity, in multiple areas each with their own capacities, or individually booked via a seating plan.
Events can recur at different dates or times, and at the same or different venues, with the same or different pricing and seating arrangements.
Booking:
can be done directly in Cameo for in-person or phone reservations (for the latter, you would need to have a means of taking customer-not-present payments or trust payment would be made on arrival), or
in a customizable bookings form embedded in your main website (like other Cameo forms). You can have the form apply to a specific event, perhaps linked from a page describing the event, or for groups of events of different kinds, or the form can start with choosing the event.
Both venues and events can specify details, including descriptive text and a thumbnail image, so that attractive event listings can be generated automatically.
Except when done anonymously, bookings and actual attendance can be tracked so you can use the attendees lists (with their permission, of course) to send follow up emails to generate further interest.
Event workflow examples
As for forms and lists, there will be a video tutorial available before long. Help is also available in the separate sections and in the main Cameo help page.
In the meantime, let's consider three examples, in separate illustrated articles:
A one-off showing of the film Casablanca in Camford Village Hall, which has unreserved seating but requires tickets (all £10, bought online or on the door). Example 1.
A week's run of performances of Macbeth in the Camford Theatre, with reserved individually-ticketed seating, higher prices in the Circle than in the Stalls, and a lower price for under 16's. Example 2.
A weekend conference on Cats on the Internet at the Camford Conference Centre, with early-bird pricing if booked on or before 1 January. Example 3.
On the door, and just beforehand
You can just check tickets manually on the door. Checking people in, however, has two significant advantages:
Tickets can be cancelled, limiting the opportunity for fraudulent re-use of tickets (which is otherwise particularly easy with e-tickets, just by forwarding an email), and
check-in in keeps an attendance record which can be useful for further marketing and communication.
There are three ways you can formally check people in, depending on the circumstances:
In Cameo, where you have a reliable internet connection, in the Reservations, Bookings and Attendance section, look up the booking by reference number or person's name. Click the check-in button alongside the ticket section of the booking summary once you have retrieved it.
Prepare an expected attendance list just before the event, using the Expected List top print an list of booked places, or Expected CSV to download an equivalent spreadsheet, and manually tick off arrivals on paper or computer/tablet/phone respectively. After the event, transcribe these into Cameo as above.
Use tickets and the Cameo Check.in app (qv). Before you start, authorise the app to do check-ins for the event by scanning its barcode, which is obtained using the check-ins link in the Reservations, Bookings and Attendance section in Cameo. Then on the door, stewards scan the ticket barcodes, either from paper or emailed tickets, to cancel the ticket and record attendance. That part can be done off-line if necessary, uploading the results later.