Background
Cameo sends notifications of any new event bookings each morning, or to the schedule you request in events & bookings → booking notifications. This includes any season tickets purchased.
Manual summaries
You can now display a booking summary manually, in events & bookings → booking notifications (Fig 1). Choose the period for which you want to see new bookings first. Cameo displays the summary similar to the notifications in a box (Fig 2).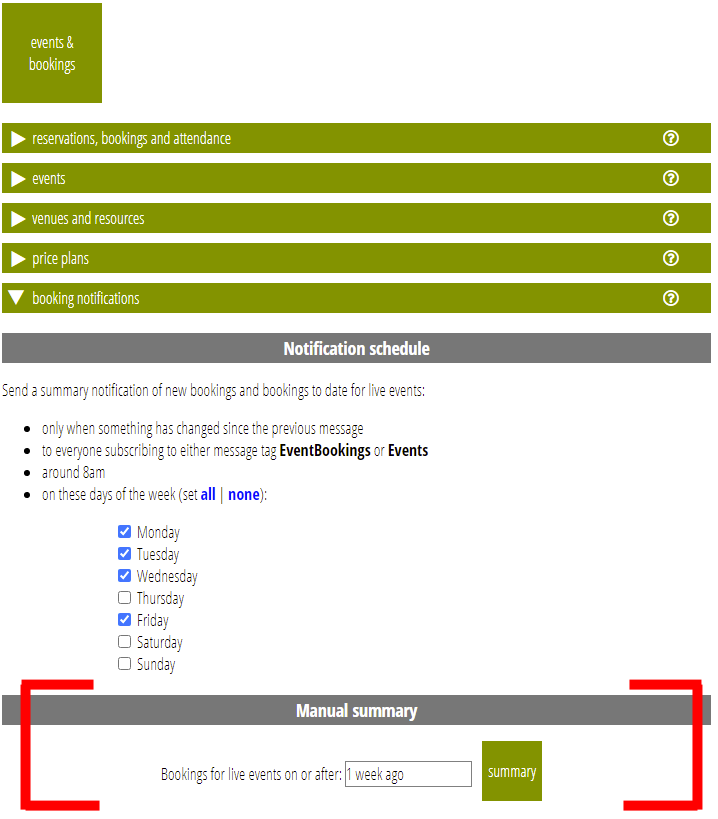 Season tickets
The booking summaries (whether manual or by notification) highlight season tickets (Fig 2). They also list the events they include. (Previously, the notification just showed the constituent event numbers).
When someone buys a season ticket, Cameo also makes bookings for each of the individual events that they include. This is so that:
the purchaser gets tickets for the event, and
the capacities of the event venues are not exceeded
However, these subsidiary tickets have a nominal, zero value. Therefore, they appear as bookings in the individual events, but do not contribute to the revenue for that event, only to the season ticket revenue. The summary does not count revenue twice.