Windows 10 version 1903 is currently being distributed. Among other things, this provides much more flexibility to logging in to web sites, like Cameo. It links the Windows Hello authentication system (first introduced to Windows in 2018) with webauthn, the browser technology which allows you to log in to Cameo using the operating system's biometric sensors or physical security keys (also introduced into Chrome and Firefox in 2018). All browser requests to log in using these methods on Windows 10 now go via Windows Hello.
To find out which version of Windows 10 you have, go to Settings, then System, then About (you may have to scroll down to see it on the menu), then look at Version under Windows specifications (again scrolling down). To set up Windows Hello, in Windows go to Settings, then Accounts, then Sign-in Options.
Also, Android fingerprint sensors should now work, as should the built-in fingerprint sensors on recent MacBook Pro and MacBook Air (only using Chrome or Firefox – Safari doesn't support webauthn yet). Unfortunately iOS is behind, and webauthn still isn't supported at all on iPhone or iMac on iOS.
Cameo changes for Windows Hello
For keys/biometrics already registered in Cameo, logging into Cameo works the same way as it used to. However, the prompts to insert or touch the button on your key look a bit different as they come from Windows not the browser.
To support the additional features of Windows Hello (and similar in the future), there are now two buttons to choose in the Profile section from when linking your Cameo login to an authenticator device.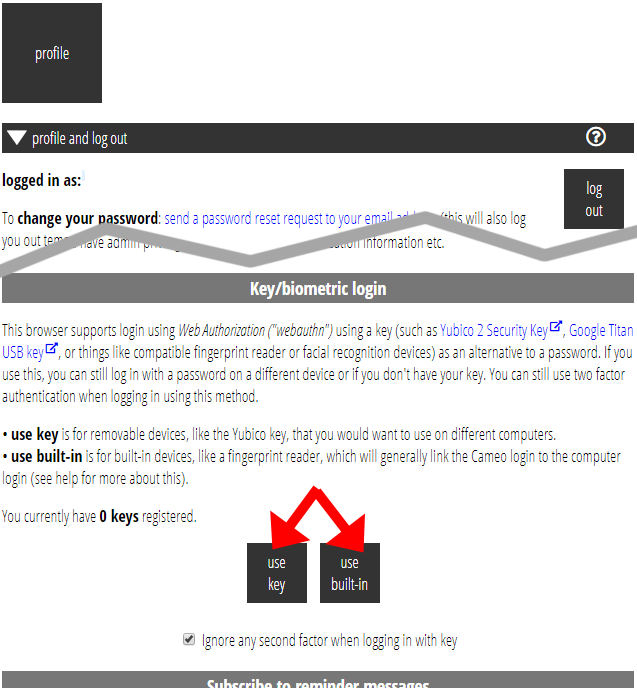 Use key deals with transportable physical keys, like the Yubico family of keys. This allows you to use such a device on any computer to log in to Cameo (if you keep it on your key-ring, for example).
Use built-in, on the other hand, links your Windows log in to your Cameo log in, so you can use any of the methods you have added to Windows Hello to log in to Cameo, but only on the same computer. This includes the Windows PIN, a quick way to sign-in to Windows; because this is part of Windows Hello, you can also now use this
You can register a key both ways if want to get the best of both worlds.
I recently bought a tiny, cheap USB fingerprint reader for my Windows PC. This works nicely with Windows Hello, so I can use it to log in to both Windows and Cameo. It doesn't have drivers for Mac or Linux unfortunately, so Windows 10 only. I don't know of any external fingerprint readers that work on Macs without a built-in one. However Yubico 2 and Google Titan keys both continue to work with Chrome and Firefox on Mac.