Create and edit HTML (rich text or formatted text) membership attachments and file store files directly in Cameo.
Background
The Attachments section on the Membership Info menu provides Membership attachments. Attachments can be:
uploaded in that section
emailed to Cameo (these will often be HTML)
saved from a scanner app
copied from the file store
Now, however, you can also create and edit HTML attachments directly in Cameo (whether originated in Cameo or not).
This means you can include long-form text as part of a membership record without having to use external editing tools to do so.
Similarly, add and edit HTML file store files in place in the File Store section.
New attachment
While you can upload a HTML file, or email it, like any other attachment or file, you can start a new, empty attachment in the Attachments or File Store section directly. Just click the New Text Attachment / New Text File button in the usual place, above the list of attachments/files (Fig 1: 1).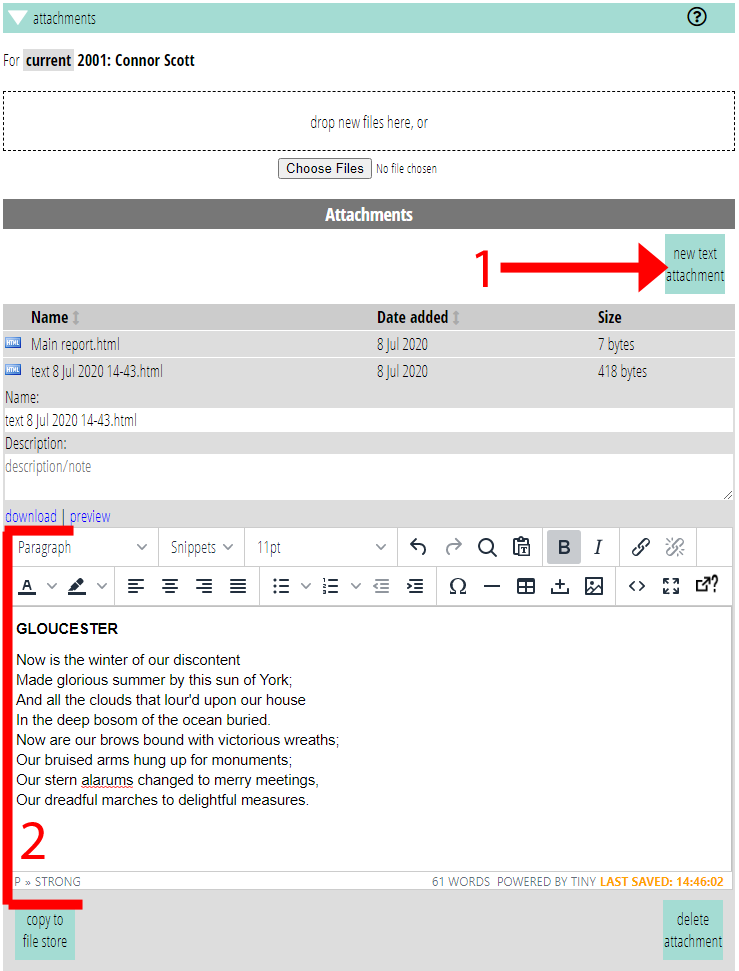 Editing
Editing an HTML attachment is very much like editing a template, but without the substitutions. The rich text editor (tinymce) appears in the attachment preview area (Fig 1: 2). Any changes are automatically saved as you type. As with templates, you can edit full-screen for distraction-free writing. Preview the article in a separate tab with the same preview link as other attachments.