When using Cameo's two-factor authentication, you can now make exceptions on your own computer. This means you get almost all the security advantages of 2FA (if someone gets hold of your password, they can't log in somewhere else without the second-factor number) but without the inconvenience of having to enter the magic number each time you log in.
Background
Two-factor authentication (2FA) uses an app on your phone to provide a frequently changing 6-digit number that is tied to your Cameo login. You enter this after your password. This makes it impossible for anyone else to log in even if your password is compromised unless they also have access to your phone. See help for details about how to turn it on.
Making an exception
To make an exception for the browser you are working in, first turn on 2FA in profile → two-step verification if it isn't already on. Then just tick the box provided to Trust this browser (Fig 1: 1).
You can also do this with a similar tick box as you enter the second factor number when logging in.
Exceptions also work if you use a key or biometric login along with a second factor, instead of a password. So rather than opting out of 2FA altogether when using biometrics, you could instead choose just to exclude your usual browser.
Rescinding an exception
Just untick the same box to start asking for the number again when logging in on the same browser.
Using the link below that, Reinstate two factor authentication everywhere, you can also rescind all exceptions (Fig 1: 2). For example, if you mistakenly make an exception on someone else's computer and don't realise until later, you can cancel all the exceptions, not just your own browser.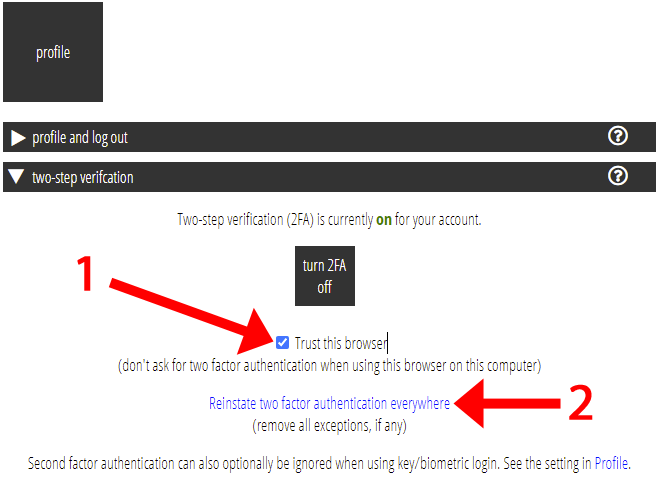 Two-factor authentication policies
A Cameo installation can already mandate the use of two-factor authentication for everyone logging in.
In the same vein, you can also prevent the use of these new exceptions. Cameo offers exceptions by default. Please ask if you wish to require two-factor authentication for your organisation with or without exceptions.