A new un-sent items panel at the top of the Cameo page (Fig 1) now highlights pending emails and letters that you produce (by Merge to Pending in the Templates section, or as a side effect of some other operation, like enrolment of new members).

Merge allows you to prepare bulk emails but not actually send them, so that individual amendments can be made before they are scheduled for sending. Feedback suggests this is valued, but that occasionally people forget to actually send a batch of emails after merging.
Hopefully, this more prominent indicator (which blinks occasionally) will help as a reminder that emails are waiting to send and letters etc. are ready for printing.
The badges (numbers in red circles attached to each section, Fig 2) continue to show this information. However, the numbers oustanding both in the badges and the new reminder panel only refer to those prepared by you, and also not already scheduled to send (previously badges showed any pending emails, including any scheduled to send).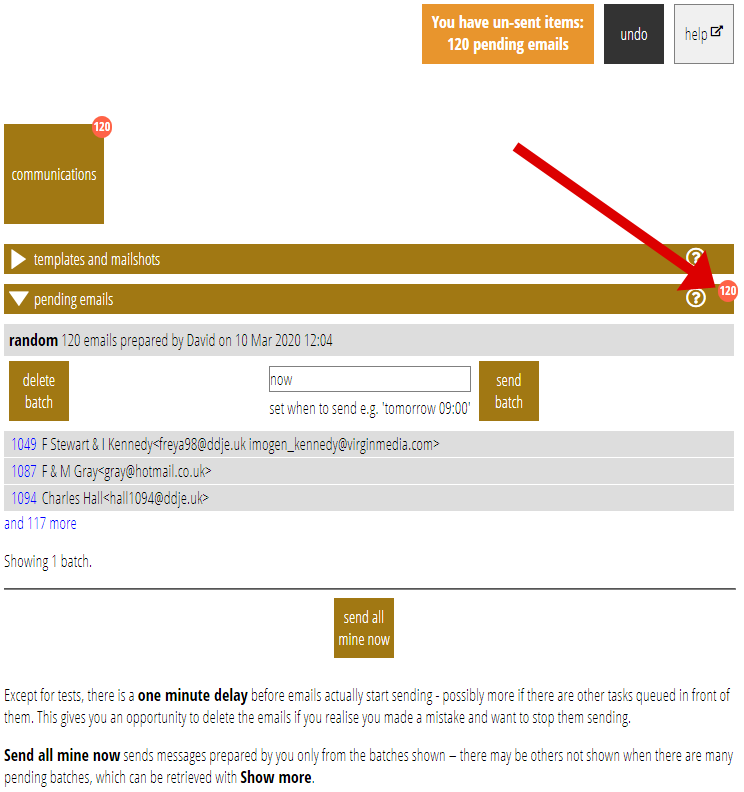 Unlike emails, pending letters did not previously make a note of who prepared them, so only letters prepared from now on will count.