Cameo is membership management software: a cloud database and web application for organising and communicating with fee-paying members and other supporters of an organisation.
We have in mind clubs, societies, political or campaigning groups, churches, community or social groups, gyms and sports halls: anything where you might collect a regular subscription from people.
Cameo reflects the needs of a medium-sized organisation with a workflow centred around efficiency of use and focussed on the idiosyncrasies of running a membership list and taking membership subscription payments. The user interface is compact, with everything to hand, organised around the tasks you need to do.
Cameo offers customizable forms you can embed in your public web site (including WordPress integration) for things like joining, renewing and updating contact details, and running questionnaires and petitions. You can also set up events (like conferences or film shows) with a self-service booking form, e-tickets and check-in facilities.
Because it's in the cloud, it's accessible to more than one person, and at meetings or on stalls: move on from the desktop spreadsheets and manual workflow you probably started with.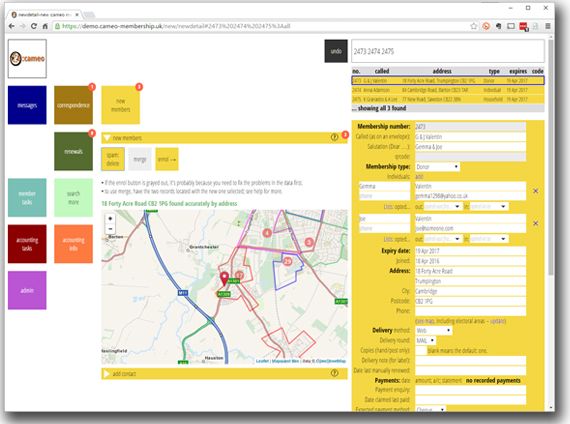 Cameo was originally written for and to meet the growing pains of Cambridge Cycling Campaign. If the name stands for anything it is "Cambridge membership organiser".
Demo
There's a demonstration version you can try. Please use our form to request a demo.

Features
record, find and update membership details, of course
changes are automatically saved as you make them; undo if you make a mistake (rare to find Undo in a web-app); no fussy stuff like requiring specific date formats
support the membership lifecycle: joining, renewals, reminders, expiries, cancellations etc.
different membership types and fees; household memberships with multiple individuals; catch the cases when people who were once members rejoin as if they were new
sophisticated searching, including locating members in an area on a map, combining search results, incremental searching
simply typing three or four characters of a surname is often enough to find them; find everyone within 500m of Whatever Road or in Little Village; typing Sian will find (accented) Siân and vice versa
custom fields
add, search for, sort by and substitute in messages your own fields for storing structured information that aren't already provided: consider, for example, a date of birth field or 'identity confirmed' tick box
comprehensive mail merge to rich text emails, letters and labels, with stored templates for personalised acknowledgments, reminders, newsletters etc.
just one click to generate this month's renewal reminders as a mixture of emails and letters; print on membership card blanks with barcodes and photo id; send a weekly update; no need for messing with moving mailing lists to and from MailChimp; keep evidence of mailing consent as required by GDPR
contacts too (supporters, political representatives, press etc.)
write your press release and send it to all your press contacts; send mailshots to potential recruits, clients or customers (who opted in for this, of course: spam not welcome)
payment management and bank statement reconciliation and storage
so, the tricky bit here is working round the incompetence of banks in how they tell you who has paid you: we have some neat ways of automatically finding who they are referring to. Payments by cheque? – take a photo of the cheque and upload it for reference; even print a paying in slip. Track Gift Aid declarations and submit to HMRC
record of all correspondence
see what you told them a year earlier long after you forgot
file attachments and notes
a member sends you a scribbled note: just photograph it and attach it to their record
assign members to arbitrary lists and send them mailshots
with automatic opt-outs; let people subscribe themselves to a special-interest subgroup via your website or manage it yourself or both; compile lists of your conference attendees
reminders
"we're moving to Belgium in six months, so we'd like to stop our membership then" – no problem, make a note of it now against their membership to pop up and email you to do it at the relevant time; also, automatically send email to members/contacts at pre-defined intervals
a complete cloud file store
with a tagging system so you can classify files; keep your committee papers, artwork and the like centrally with everything else
statistics
find out how many members you've got of what types; what's your membership turnover?
reports
prepare tables for spreadsheets of selected information from membership and contact records (including custom fields).
control over who can edit and access financial information
so some people can consult the list, do mailshots and add contacts, while only your membership secretary can edit paid memberships, and treasurer has access to payment history
events, appointments and bookings
set up events like conferences, coach trips, concert performances; manage bookings, linked to existing members as appropriate; print or email tickets; even equipment hire or loan; embeddable self-service booking forms including taking payment.
API for linking to joining and renewal forms on a public website
you collect the information how it suits you on your website, and we collect it from you automatically; you can ask us for a unique membership number or current membership info so you charge renewals correctly
customizable ready-made forms
prepare and customize forms for embedding on your public website for main functions such as joining, renewals, address updates, bookings, mailing list management, gift aid declarations, contact sign-up, and running questionnaires, petitions or other consultations.
modern, responsive user interface
adapts to different size screens, so someone asks you about their membership at a meeting, just look it up on your phone; every membership has its own URL, so you can send links to other users; colour coded for instant recognition; keyboard short cuts for rapid navigation
getting data in and out
automated backups easily restored if the worst happens; import memberships from your old system; create spreadsheets of selected records
light on hardware
runs well even on a Raspberry Pi – so on a tiny box, it may be possible to run it in your own network if your internet connection is fast enough, rather than incurring hosting costs; or on a minimum-spec Google Cloud server; https, two-factor authentication and/or keys for security

Pricing
For voluntary groups with a small database, it could be as little as the hosting costs, and covering any development costs. If your voluntary organisation can afford it, I'd quite like a contribution: make me an offer.
For commercial organisations, 2 pence (UK) per month per membership/contact record managed by Cameo, hosted centrally.
Try it out free with real data, perhaps running in parallel with your existing system.
Happy to discuss what it would take if you need help with making or integrating membership forms on your own web site, or if you wanted interesting integrations (e.g. a gym popping up the member's photo when they swipe a membership card). Hosting separately or on a server of your own, or sending large volumes of email, may cost more depending how it is done.
I'm flexible at the moment, please ask.
info@cameo-membership.uk
More detail
You can read the app's help page if you like (opens in new tab).
It's currently available in English only; currency symbol is customizable, but only one currency.